News

Events in 2004
Potfest in the Park at Hutton in the Forest Nr Penrith (there's a Potfest website) on 30th, 31st July and 1st Aug.
Exhibition at Linton Court Gallery , Duke St, Settle N. Yorks . (01729 822695) from 28th Aug to 19th Sept
Exhibition at Gallery Ray Nagoya Japan with Japanese silversmith and sculptor Rie Taniguchi; provisionally entitled 'Creatures' from 1st Sept to 17th Sept
Latest:
Almost a year since last exhibition in Japan- an artist -run gallery Kawarabanya in the old-fashioned "shotengai" a sort of covered market street, in Seto.Am now starting to prepare for next September's show in Gallery Ray, in Nagoya, where I exhibited two years ago.
Last Spring was wild; a visit to Shikoku with snow on bamboos, just back to Seto in time for premature birth of twin granddaughters, then exhibition. Then I got Shingles, had hospital treatment, and stayed longer to help with lovely babies. Also talked with client who commissioned this panel. He asked if I'd heard of a cellist called Jacqueline du Pres, and was both surprised that I had, and that I would make a panel of a cellist for him.
Potfest busy as ever; then Syozo Michikawa and Masaru Hanano came, one to be artist in residence, other translator, and then back to Japan in September.
In Seto for the Setomono Matsuri, the pottery festival that takes over the old town, in the hot and humid summer weather. Many Japanese friends to see but also UK ones, last seen at Potfest. Went out of the heat into the Japan Alps with a London friend; took a tourist trip over the North Alpine Route-the easy way by train, cable car, bus and tramway. Magnificent rocky peaks dusted with snow viewed from our overnight stay. At 10,000ft. (easy ,yes, but I did worry rather about J Mountain Rescue given my unprepared friend's difficulties with mountain paths--) Then fantastic autumn scenery on the south-facing slopes of the other side of Tateyama. Autumn in New England is spectacular, but it's more so in Japan where the mountains, being volcanic, are bigger and steeper.
Back to UK , discussions and drawings for a new floor commission and work for Bay Potters' Christmas show- and then Christmas itself. A houseful of family and friends including Dutch potter Gijb Zaalberg whom I hadn't seen for over 40 years. Twelve of us for dinner, on Christmas Day, with seven different nationalities.
North West Arts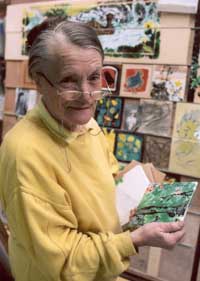 Have just finished a nice domestic commission for friends who have for years been buying odd single tiles and seconds and talking about things, and now have a newly acquired old house and a reason to commission work. It has been a real pleasure to work with them. Now to get on with installation.
NorthWest Arts do seem to be seriously trying to contract the gap between what artists want and what a quango can supply.
Sometimes it seems to me, moving between worlds, that the problems might have to do with divergent languages. There's a managerial language of control and evaluation, definition and justification, which must always lag behind the experience share by both hopeful and hopeless artists in working with actual materials of work and life. I do hope the language gap closes. Guess it won't because one lot of artists finally work towards defining their needs means that another lot, like the theatre people I spoke to tonight, feel scandalously neglected.
Wish I could define, in management-speak what we artists need - perhaps it's a management spokesperson!
After working frantically for over 4 month the Japanese exhibition proved a great success. Click here to read how I got on.
Click here to see some of this work I produced for Japan.
Exporting Event
I was invited with a another AWTC Member Meryll Evans, to a Business Link Exporting Event hosted by Peter Gawne-Cain to meet the Duke of York at the end of April. I presented him with two framed Bird tiles for his daughters. Happily I have received a letter from Buckingham Palace thanking me for the gift.
Public Art - Rinteln Panel
My big thing for last year was producing a 2 x 3m Tiled Panel to commemorate the Town Twinning between Kendal and Rinteln in Germany. The panel was installed at the Elephant Yard Shopping Centre in Kendal in May.
Hongyo Tiles - Japan 2001.
August is hot and humid in Japan, so I took a holiday from trying to work in Seto, and danced all night at the OBon Festival in Gujo Hachiman,among the high mountains, cool rivers and returning ancestors.
Whilst looking into the history of Hongyo Tile production, I met the frail but impressive Mizuno Hanjiro a friend of Hamada & Leach who has fuelled my interest and investigations further. I promise to write down my investigations over the coming year!
Other Sites
I am pleased to say that I have been listed on a new hand painted tiles site.
On Book covers
I have recently been to a commemorative poetry reading in Cambridge of work by Dorothy Nimmo, who always put my work on her covers of her books.